How does an average non-genius learn how to win a game of chess? The tradition method for a beginner is quite simple: Play chess games and learn by experience. Reading a chess book is the second most popular way for a novice to learn, but that does not usually work as well, for most chess books are not for beginners but for players of mid-level abilities at least.
The new paperback Beat That Kid in Chess may be the first publication to systematically use the teaching method called "nearly-identical positions" (PIN). It was also written especially with the "early" beginner in mind.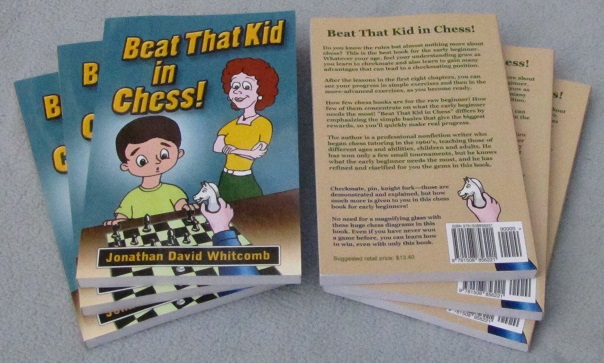 Beat That Kid in Chess – published by Createspace on September 2, 2015 –  for beginners
Nearly-identical positions can help chess students catch onto tactics in a natural way, allowing novices in the royal game to gradually see tactical opportunities and avoid the pitfall of overly-simplistic strategic generalities in their thinking.
Quoting Createspace
According to the publisher's page for this chess book, Beat That Kid in Chess gives these advantages:
1) Simple – It really is for the early beginner
2) Concise – no chess history or reciting the rules
3) Huge Diagrams – no magnifying glass needed
4) Win-focused – quickly learn to win a game
5) Two levels of exercises – learn at your pace
6) Reviews – appropriate repetition, as needed
7) Internal references – find things quickly
8) Two indexes – general and exercises
9) All three phases – opening, middle, end game
10) Critical tactics – pin, knight fork, etc
11) Checkmates explained – attack and defense
12) Common pitfalls explained – avoid errors
Quoting the Introduction in the book Beat That Kid in Chess
"If you know the chess rules but almost nothing about how to win, this book is for you. We'll keep to the basics that you need most . . . I must tell you something I've learned over the past half century: If your opponent has both a greater natural ability at chess and a greater drive to win, expect to lose at least a few games. . . . If you have a greater drive to win, however, you can combine that with what you learn in these lessons, and you can expect to beat a raw beginner more often than you lose, even if that person has more natural ability than you have. What better lesson to teach your opponent than humility?"
###
.
Chess Books for the Novice and Post-Beginner
Three chess books compared
Winning consistently comes not from stepping through a chess game as if it were dancing . . . It's more like dinosaurs attacking.
I've read and studied dozens of chess books in the past 53 years. I don't recall any of them that included nearly-identical positions for training. [aside from Beat That Kid in Chess]
.

chess